We're presenting here a list of "things to look for" specifically aimed at those with experience of other CAD programs who might appreciate special guidance for Domus.Cad. The following points highlight specific areas and draw attention to what makes the program unique compared to others.

Separate Drawing and Selection Modes
A user familiar with other CAD programs may at first be disoriented by Domus.Cad's use of two separate operative modes, activated individually by the Arrow and Pen icons. Programs with interface derived from Autocad or from MacDraw (such as MiniCad and PowerCad) do not follow this principle. In these programs, if the Arrow icon is not selected the user is automatically in Draw mode.
Domus.Cad uses two different tools to allow "selective" selections. When making selections therefore, the Arrow icon must be activated along with the appropriate element icon. Likewise, when inserting elements, the Pen icon must be activated along with the correct element icon.
Having two working modes – Drawing mode and Selection mode – allows the user to operate with greater flexibility and speed. For example, if all the doors of a particular floor of a large project must be selected for modification, the user does not have to click them all individually. They may be selected all at once – without including other unwanted elements – by simply activating the Arrow (Selection) and Door icons and tracing a rectangle encompassing the desired area. When necessary, the selective selection may be deactivated by holding down the Ctrl (WIn) or Command (Mac) key while tracing the rectangle, allowing selection of all the enclosed elements.
Clearly, having separate operative modes makes sense only for programs such as Domus.Cad that work with constructive elements (where the ability to select only walls or stairs makes sense) and is much less advantageous in programs based on the use of geometric elements such as lines and polygons.
Automatic wall fusion
At first glance Domus.Cad's automatic wall fusion may seem nothing other than a simple procedure to connect wall extremes, much like in many other programs. In reality, however, it is very different, both practically and conceptually, permitting the user to freely move and divide walls, delete extra pieces, and create complex elements (such as several walls converging on the same vertex) quickly, representing them as a single element. It also fuses walls having different thicknesses or lying on different axes and permits the easy creation of wall niches, various window openings, and curvilinear and irregularly-shaped walls. Walls can be moved or modified while still maintaining the project's correct geometry. No other program on the market has this feature.

A moving walls sequence with automatic fusion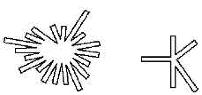 A little test. Try to do the examples above with Domus.Cad and with other CAD programs
Immediate creation of a 3D model.
Design elements are created from the outset in their full 3D form. Although they are drawn on plan in a 2D workspace (like other CAD programs), they have 3D characteristics from the moment they are created. A wall, for example, is not a series of lines drawn in plan, then elaborated later into an object having a width and a height. It is a dynamic three-dimensional element from the moment it is drawn having a two-dimensional REPRESENTATION in plan. It is an important difference to note – Domus.Cad does not separate 2D and 3D modes and work in them separately. If the program is used in its full capacity as an interactive design tool, the user will see the full three-dimensional wall with all its assigned characteristics (including material) appear in the 3D window the moment it is created.
3D view updated in real time
The CAD user familiar with other programs might assume Domus.Cad's 3D View window to be simply a place where static images are displayed upon choosing a specific command. With the Interactive option activated, however, the window may be left open to visualize a rendered, continually updated view of every design addition or modification in real time. This allows the user to work naturally in plan while having complete SIMULTANEOUS control of the three-dimensional space. Elements can be selected and modified clicking on the 3D view. No other CAD product incorporates Apple's QuickDraw 3D and Quesa – OpenGL technology in this way.
Walkthroughs in real time
The QuickDraw 3D view window is interactively updated in REAL TIME moving the position of the view point and observed point, allowing the user to enter every angle of the design. This is very different than viewing a movie because it reaches another level of interactiveness. The generation of a movie following a predetermined path requires more time to produce and once generated it may not be changed. If changes are made, a new movie must be generated. No other CAD product offers the ability to do walkthroughs in real time with this degree of control.
Interactive 3D sections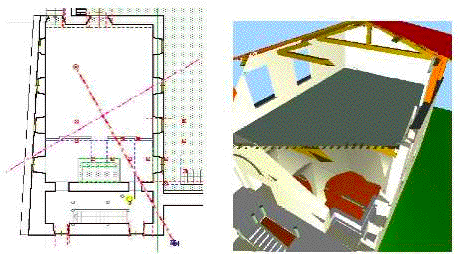 Moving the 3D sectioning plane on the plan cuts immediately the 3D model on the 3D view.
3D Vectorial rendering
One of the most important features of Domus.Cad is the vectorial rendering engine, that allows the user to obtain elevations, sections, perspectives and axonometries in a way as the interactive 3D view, generating high quality and very detailed drawings, colored with the same colors as the interactive 3D view.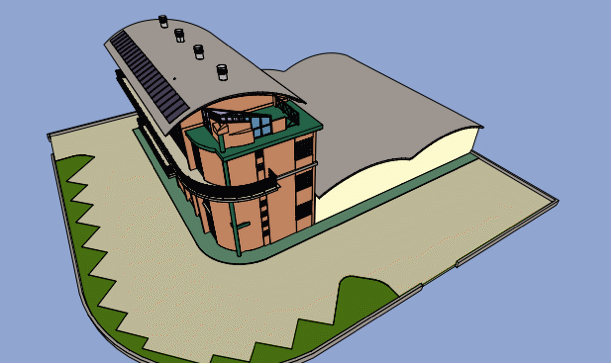 Direct paging
Domus.Cad's internal paging may escape notice completely simply because it is not expected – no other CAD program includes a paging procedure so easy to use. ArchiCad, for example, requires plans and views to be exported to PlotMaker, meaning that the operation must be repeated after every design modification. In other programs the various layers must be moved on the sheet so that they are not superimposed, losing the integrity of the original model. In Domus.Cad, any part of the design may be paged without moving elements from their original position. Drawings are also updated automatically while on the paged sheet and don't need to be re-paged. Paging is at the same time separate and integrated.
Apply objects and Apply Frames
This exclusive and revolutionary function allows you to apply a library object to any selected elements, like a window frame to window elements or 3D furniture to selected 2D shapes (see below).



Break out of parametric limits
Some programs offer a list of frames automatically linked to door and window openings, but more often than not, the very frame you want is not there and you end up using frames which do not correspond to reality. A little experience of such programs – and you soon come to recognize them by the drawings of the frames used – always the same old ones!
Other programs (but not Domus.Cad) have come up with a totally different programming language to define the new parameters. Domus.Cad could do this too, because it can be programmed in C and C++, but this is a solution developed for programmers – not for architects.
Break out of your parametric limits!
The parametric elements of Domus.Cad are powerful, fast and creative design tools, but we do not believe that simply adding more parameters is the correct solution to architectsÕ difficulties. We believe that, at any given moment, you should be able to break out of parametric limits, in order to create freely and introduce a variety of elements into any one project.


Several Architectural modeling functions
Individual default values
Default values are those automatically recalled when the program is opened. The user will notice when double-clicking any element icon that the related dialog box already contains certain default values. These preset values allow the user the possibility to immediately begin creating a three-dimensional model without having to first set a series of values (initially, more precise measurements are usually not yet known). By entering new values and clicking the Default button, the user can change the default values, customizing them according to preference or project standards. Clicking the button saves the values currently displayed as the new default values to be recalled the next time the program is opened.
Whereas other programs save all default values together (equal to Domus.Cad's Save Operative Environment command), Domus.Cad provides the user an extra degree of flexibility by allowing default values to be saved for each element individually. The user might choose, for example, to change the Wall default values while leaving the others as they are.
Parametric Windows and Doors
By combinating various parameters it's possible to create many types of windows and doors with several tracing modes.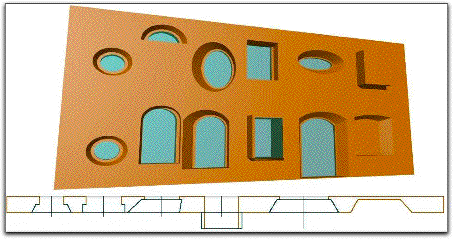 Interactive Dimensions
You can modify dimensions in interactive mode, moving, inserting and deleting dimensions' points. While you are modifying the points, the dimensions are continuously updated.   At the same time the graphical components of the dimensions, text and lines can be modified, as you like.
Algebraic input
An algebraic expression with parentheses and +/*- operations can be directly inserted in any numerical field (this feature is disabled when using fractional inches).
Other features
For all the other important features of Domus.Cad, please, look at the following important documentation: