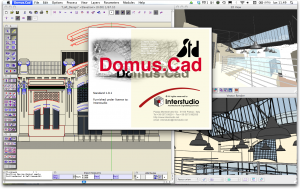 Domus.Cad Std – that's Standard – is a new configuration of Domus.Cad, with a very attractive price, which is a complete work tool for architectural, parametric 3D drawing.
Domus.Cad Std has what you need, minus some Domus.Cad Pro functions that are not strictly necessary for drawing.
The main Domus.Cad Pro functions that Domus.Cad Std does not have are: Floor and Roof, SpiralStair, StairRailing and SuperRailing modules, quantity calculation, exporting in DOCFA, 3DS, metafile, PICTS, automatic generation of demolition and construction overlay, wrought iron stairs, support of DWF format, generation of diametric oblique axonometry and vectorial isometrics.
But it has all the rest – all parametric architectural tools, automatic wall fusion, interactive 3D view, vectorial 3D view, DWG and DXF support from version 12 to version 2011 and much more.
The additional modules and DomusTerra – included in the Pro version – are in any case available as separate options for Std.
Domus.Cad Std is the BIM solution for working and drawing in 3D with all tools necessary for a professional result at reduced cost.
More information on Domus.Cad …
More information on Domus.Cad Pro …