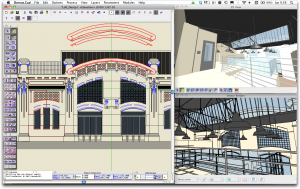 The new version of Domus.Cad is out – and it's called Domus.Cad Pro.
No more numbers – we had reached version 16 – we're starting at 1 of Domus.Cad Pro, where Pro stands for Professional, as opposed to the version Std (Standard), also being released.
Lots of new features that make Domus.Cad increasingly the best professional architecture and parametric program for architects worldwide.
3D vectorial view
Lots of new features in the 3D vectorial view. Among other things we have added all standard 3D views, such as isometric and diametric oblique axonometry with the possibility of generating any standard or custom view parametrically. The previous types of axonometric view are, of course, still there – perspective, parallel, cutaway and section.
Graphic interface
The graphic interface has been modified to accommodate current high-resolution monitors, by modifying some palettes, management of popup menus and new ways of navigating in plan and 3D view.
Export of quantities list
You can now, easily and fast, Copu and Paste quantities list from Domus.Cad to other program like Excel, OpenOffice and Numbers
Multi-page PDF
Not only can PDF documents be imported and visualized with their original vectorial aspect – now multi-page PDFs can be viewed page-by-page and you can decide which page to visualize or print (Mac Os only).
Ruler
Now you can visualize the measurements in 3D vectorial view too, while the distance is visualized constantly in a tool tip by the cursor, in addition of course to all the information in the message palette.
Select and modify objects
Objects selected are visualized with a semi-transparent background and additional functions for modifying them.
Popup contextual menus
Right-clicking the mouse brings up a menu with the functions that can be carried out in that context .
DWG-DXF
DWG and DXF support from 12 to 2012, with excellent support of various graphic elements.
Export to DOCFA
If you happen to be working with Italy you will probably need to send your plans to DOCFA (the Italian Land Register program).
Other new features …
Domus.Cad Pro is a total BIM solution, without compromise, also available with the exclusive Rent-to-Buy formula.
More information on Domus.Cad …
More information on Domus.Cad Std …