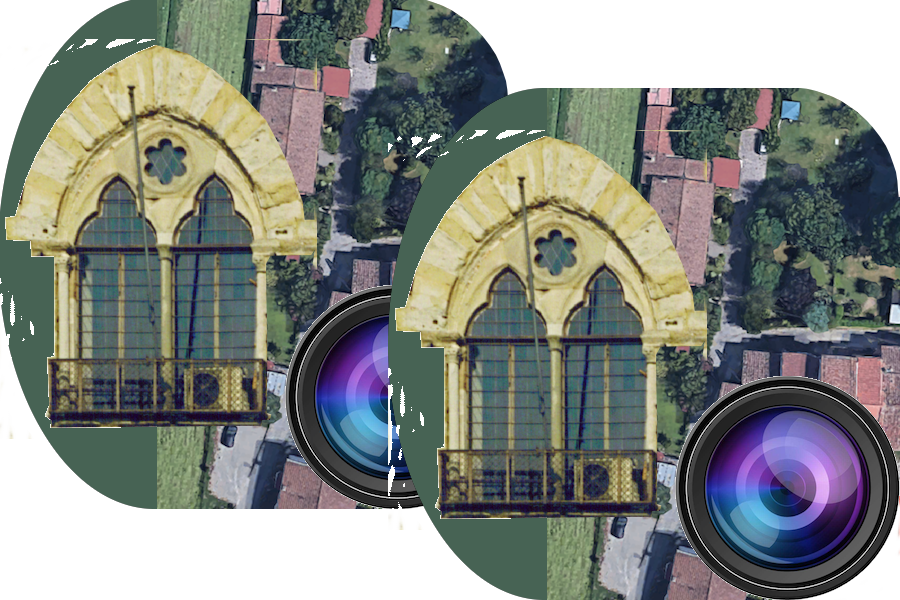 DigiCad 3D is an architectural and aerial photogrammetry, cartography and mapping program born in 1987 and continuously renewed to follow the developments of the technique. We started from graphics tablets and large digitizers to get to drones and the future is not over yet.
To better meet new needs and new technological challenges, the program has been completely rewritten, both as a user interface and as an analytical code, using a cross-platform development system with advanced features and including new software technologies.
Differences from previous versions
Referring to previous versions of the program, the first immediate difference is the appearance of the user interface, with the work window divided into two parts, the source window and the target window, an inspection panel on the left and a tool bar at the top.
In the previous version of DigiCad 3D both the original elements and those resulting from processing were positioned on the same worksheet, while now the two parts are separate: an origin view, where to place images, photos and drawings to be processed, and a destination view , where the results of the linear and perspective transformation processing normally appear.
Everything is managed via  origin layers and destination layers.
Origin layers are normally associated with images.
Contrary to the previous version, where each document could have a maximum of 4 attachment points and a mesh, now each origin layer can be associated with origin and destination attach points and meshes, in order to better manage jobs with multiple images such as architectural or photogrammetric mosaics.
The inspection panel allows you to interact with the various graphic parameters and to introduce and modify the elements also numerically.
Here is an incomplete list of differences from DigiCad 3D 9.
WIndows and MacOs multiplatform system with common job format based on QT
Splitting the program window into the Origin and Destination views
Advanced graphical interface with management through "handles"
Multiple origin layers with attachment points and meshes
DWG and DXF import and export with images included
Management of DWG and DXF imports in graphic containers that can be managed as blocks
Interactive management of transparency, deformation and rotation of images and DWG and DXF groups
Multiple Undo – Redo without limits
Multi-document management
Creation of cutouts and transparencies of parts of images by drawing vector shapes
Automatic vectorization of images
Interactive management of the optical deformation of the lenses
Multi-page print preview
Many import and export formats, including PDF
DigiCad 3D key features
Architectural elevations from photographs
Elimination of perspective distortion
Partial transformation
Mosaic work
Transparent images can be superimposed on technical drawings and bitmaps
Regular- or irregularly curved surfaces can be straightened out
Optical deformation caused by photo lenses can be eliminated
Approximate and precise transformation
Perspective and Linear Transformation
Ability to work with large format drawings
Automatic union of parts of drawings
Direct transformation of photos or scanned images
Geo-reference
Elimination of map distortions
Creation of texture from photos
Snap and Block functions
Point Clouds
Maps from satellite
Ability to move elements or groups of elements
Import DWG, DXF, XYZ, JPG, BTM, GIF, JPEG, PNG formats and others format
Export i DWG, DXF, XYZ, PDF, JPG, BTM, GIF, JPEG, PNG, PDF and many others
Rotation, modification of the transparency, of the resolution and of the number of colors of the raster images
Exact images re-scale and real measurements.
More …
Some images