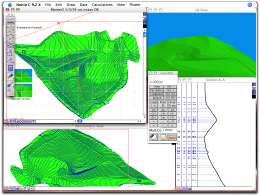 Two major developments in Nonio C – Interstudio's program for modeling and drawing landscape!
The first good news is that the Windows version is now complete, thanks to the valiant input of all our beta testers.  The free FC (Final Candidate) version has therefore been removed from our website.
And secondly – the Mac Os X version is out, while the Windows version is due for release September 2007.
Here are some of the new things you'll find in Version 9.2 :
Improved graphic interface – all dialogue windows have been redesigned
Interactive updating of your entire project (including contour lines) after each modification, even using mouse
Improved 3D model
Possibility of changing Z-axis of selected points, using mouse if wished, with interactive update of all windows
Rototranslation of selected points
Several new operations regarding images : rotation, rescaling, deformation, modification of colors and transparency
Click here for more information on Nonio C and download a demo version.